What Type Of Dishes Are Available On A Turkish Gulet Cruise?
When you have decided on a Turkish gulet cruise, among the preparations made are provisions, prior to your arrival to the boat. Usually you will have three options to consider for your meals. There is a Standard Chef's menu, an Exclusive full board menu and a shopping list where you choose the foods, and other groceries you wish to buy. However a very high choice is the Standard menu or Exclusive menu. It's easier to choose a menu than to try and figure out what you need of how much during a one week blue cruise holiday. Yacht agents and boat crews have done this hundreds and thousands of times that its actually quite easy to place the order for these items according to the count on board. Not only that, all the chefs or cooks are well experienced in preparing dishes from the Turkish kitchen. So to answer the question, yes, you will be served Mediterranean and/or Aegean Turkish dishes for your gulet menu on board.
The difference between the two menus is that there is more variety in dishes and deserts in the Exclusive full board than the Standard menu. However if you are not too fussy about variety, the most popular one of the two is the Standard. Contained in this menu are dishes either grilled or barbeque poultry, fish and meats. You will also find a fresh selection of Turkish garden green salads, different kinds of vegetable casseroles, and plenty of fruit plates of ones that are in season. On some gulets, the chef, captain or owner will add a few surprise delights as well. 🙂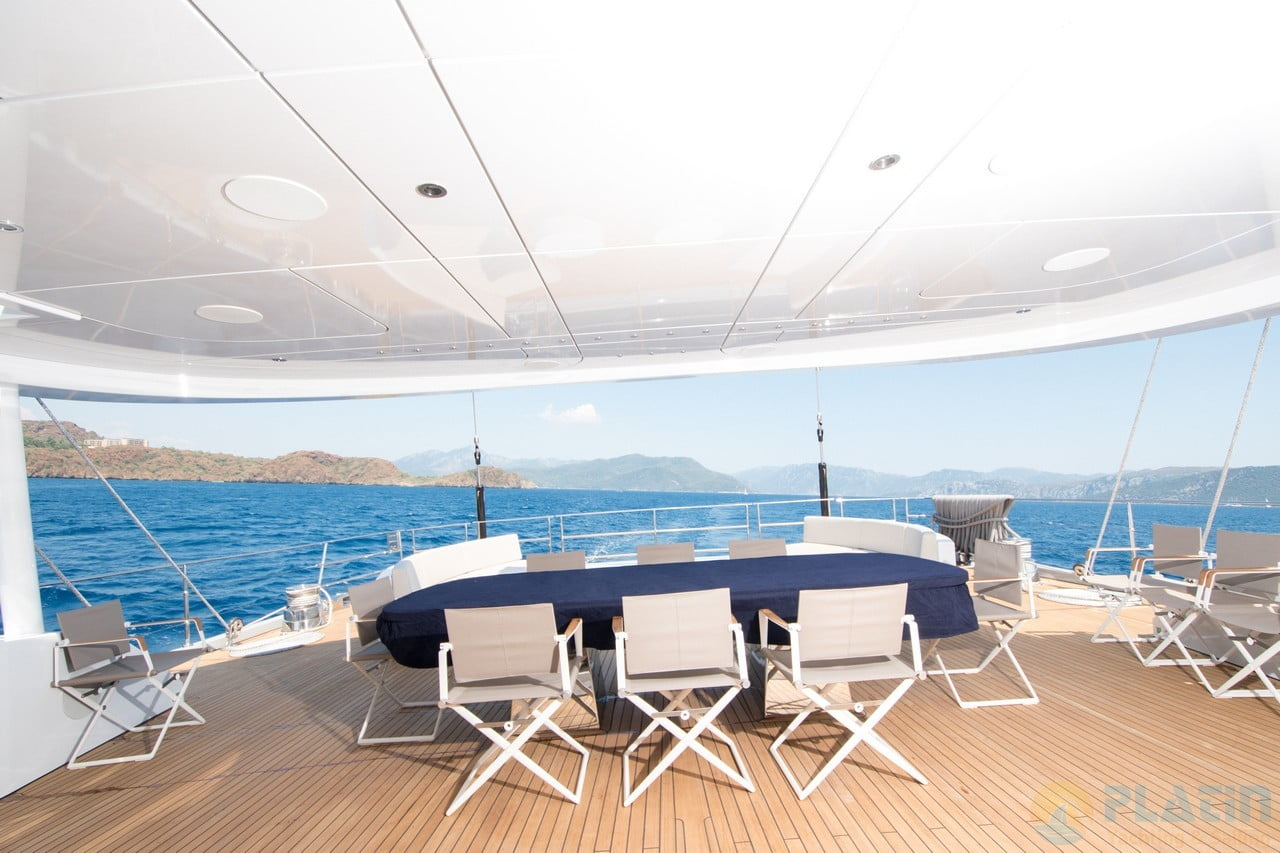 What Type Dishes Turkish Gulet Cruise
The Exclusive menu is a bit more in price, however it offers more variety and different dishes and salad variety. Rather than a Turkish garden green salad, you will find Octopus salad, and Greek salad as alternatives. The appetizer choices are many as well.
You can do your own shopping too for your gulet cruise in Turkey. What happens in that case is the agent sends a list, you choose which items you wish to buy and how much of them, as well as other provisions that you will need during your holiday. The payment is made with your first payment of the yacht, then crew purchases and stocks the boat before you arrive so that all items are already there for you upon your arrival.
The only part that is not included in any one of these menus are drinks – whether soft drinks or alcohol. That is another list that you will need to choose from or list.
Turkish Gulet Cruise Cuisine
Embarking on a Turkish gulet cruise is not only a journey of exploration and relaxation; it's also an opportunity to indulge in a rich tapestry of culinary delights. As you set sail through the turquoise waters of the Mediterranean and Aegean, you'll have the chance to savor a variety of mouthwatering dishes that showcase the vibrant flavors and traditions of Turkish cuisine.
Provisions and Preparations:
Prior to your arrival on the gulet, preparations are underway to ensure your culinary experience is exceptional. One of the decisions you'll make is selecting your meal option. There are typically three choices: the Standard Chef's menu, the Exclusive full board menu, or a personalized shopping list. While the shopping list offers flexibility, the two menus provide curated culinary experiences that bring the best of Turkish flavors to your table.
Mediterranean and Aegean Delicacies:
Yes, you can expect to be served a delectable array of Mediterranean and Aegean Turkish dishes during your gulet cruise. The chefs or cooks on board are well-versed in the art of Turkish cuisine, ensuring that each meal is a journey of flavors that reflect the region's rich culinary heritage.
Standard Chef's Menu:
The Standard menu offers a wonderful selection of dishes that cater to various palates. From grilled and barbecued poultry, fish, and meats to a fresh array of Turkish garden green salads, you'll find a balance of flavors that celebrate the bounty of the land and sea. Vegetable casseroles, seasonal fruit plates, and delightful surprises prepared by the chef, captain, or owner are also part of this menu.
Exclusive Full Board Menu:
For those seeking a more extensive culinary experience, the Exclusive menu is a tantalizing option. While slightly higher in price, this menu offers a broader variety of dishes, salads, and appetizers. Prepare to be enchanted by options like Octopus salad, Greek salad, and an array of mouthwatering appetizers that showcase the diverse flavors of the Mediterranean and Aegean.
Personalized Shopping List:
For a truly bespoke experience, you can opt for the personalized shopping list. This allows you to choose the specific items and quantities you'd like on board. Once you provide your preferences, the crew will ensure that everything is stocked and ready for your arrival. It's a great option for those who have specific dietary preferences or simply want a hands-on approach to provisioning.
Beverages: A Personal Touch:
It's important to note that beverages, including soft drinks and alcohol, are not typically included in the menus. Instead, a separate list is provided for you to select your desired beverages. This allows you to tailor your onboard beverage selection to your preferences, ensuring that your gulet cruise experience is as personalized as possible.
A Culinary Voyage Through Turkish Waters:
As you sail through the pristine waters of Turkey, each meal becomes a culinary voyage that celebrates the flavors of the land and sea. From the moment you step on board, you'll be treated to a feast of colors, aromas, and tastes that showcase the essence of Turkish cuisine. Whether you opt for the Standard menu, the Exclusive menu, or a personalized shopping list, your Turkish gulet cruise promises to be a gastronomic adventure that lingers in your memory long after the voyage is over.