Blue Cruise Fethiye Turkey
Gulet sailing has become one of the most popular styles of vacations in the Mediterranean. Fethiye blue cruise holidays are one of those places that has added life to travelers who have embarked on a gulet cruise in Turkey. The splendid harbor city of Fethiye offers holidaymakers so many options in how they can experience blue cruise sailing from the shores of Turkey and further to the Greek Islands.
However you don't have to sail far to enjoy the treasures that are available for your holiday pleasures. From nightlife to water sports; historical ruins and ancient cities to much more; Fethiye is the paragon of delights in Southern Turkey.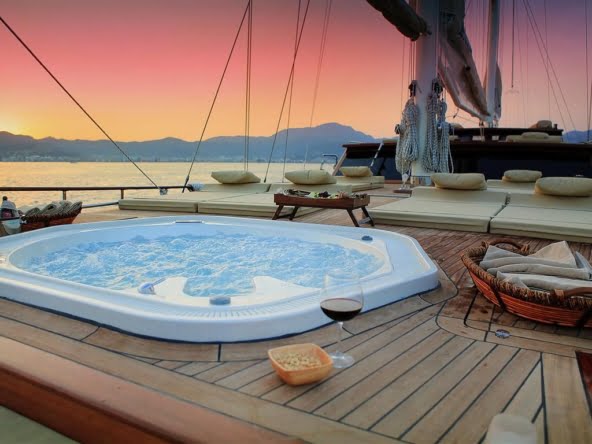 What is Gulet Charter In crewed Yacht Charters; the yachts will generally visit two or three bays...
Gulet Charter Turkey
One of the many features that make Fethiye an ideal choice for embarking on gulet cruises is its proximity to the Dalaman International airport – a short 40 minute drive. So after a flight from abroad, a brief drive to the harbor to meet your gulet charter becomes a relief and opportunity to get settled in before setting sail either the same day or the following morning.

Should you reach Fethiye a day earlier or sooner, you might like to see the city itself. There are many things you can do. It all depends on what sort of activities peak your interest. If you are the type of traveler who loves to be a part of adrenaline sports, one of the must-do's in Fethiye is paragliding from 1900 meters off Mt. Babadag. It is truly an exuberating experience. Also a night out on the town for a dinner and dance – there are many bars and restaurants on the waterfront as well as night clubs in the centrum you can choose from. However if you are after more of the cultural feel and historical sightseeing – once you have set your course and began your gulet cruise journey, a must-see visit to the town of Dalyan would be a great idea. After a short boat trip from your gulet along the Dalyan river, you can trek up to the ancient King Tombs of Caunos.
Itineraries are flexible on blue cruise Fethiye route. You can plan your route west to see the Antalya region; such as exploring the region of Kekova and the sunken underwater city of Simena – a top choice when you are headed that way. Alternatively you can set your compass to the west and visit the exciting cities of Marmaris or Bodrum, and before then, see the charming town of Gocek. Each route, every destination is unique than the next. All in all, you are certain to have a great time, after arranging a well planned and organized blue cruise itinerary when you start from the delightful city of Fethiye.
Discover the Enchanting Charms of Fethiye Blue Cruise Holidays
In the realm of Mediterranean vacations, gulet sailing has surged in popularity, offering travelers an extraordinary blend of adventure and relaxation. Among the myriad destinations that have breathed life into these seafaring journeys, Fethiye stands out as a beacon of enchantment. Nestled within the embrace of the stunning harbor city of Fethiye, gulet cruises in Turkey unlock a world of wonders, from the captivating Turkish coastline to the allure of the Greek Islands.
Fethiye's Kaleidoscope of Delights
Fethiye offers a symphony of experiences that cater to every traveler's yearning for discovery. The city's strategic location grants access to an array of treasures that extend beyond the shimmering blue waters. From the vibrant nightlife to thrilling water sports, ancient ruins to modern-day indulgences, Fethiye is a tapestry of delights that captivates the senses and feeds the soul.
An Ideal Launchpad
A pivotal feature that underscores Fethiye's appeal as a gulet cruise departure point is its convenient proximity to Dalaman International Airport, a mere 40-minute drive away. This means that weary travelers stepping off international flights can swiftly transition to the harbor and embark on their gulet charter adventure without delay. The seamless transition sets the tone for a journey defined by relaxation and anticipation, allowing you to settle in and acclimate before setting sail, whether on the same day or the following morning.
Embarking on Fethiye's Tapestry of Experiences
Before embarking on your gulet cruise, take the opportunity to immerse yourself in Fethiye's rich offerings. The city caters to diverse tastes and interests, ensuring that every traveler finds their perfect pursuit. For the adrenaline seekers, paragliding from the lofty heights of Mount Babadag is an exhilarating option, promising panoramic views and an unmatched rush of excitement. Alternatively, a night out on the town beckons, with waterfront restaurants and bustling nightclubs that promise a vibrant evening of dining and dancing.
For those yearning to connect with the region's rich history, a journey to the ancient town of Dalyan is a must. After a leisurely boat trip along the Dalyan River, a trek to the iconic King Tombs of Caunos awaits, offering a glimpse into the past and a connection to the cultural tapestry of the region.
Sailing the Boundless Horizons
As your gulet cruise journey unfurls from Fethiye, a world of possibilities opens up. Itineraries are remarkably flexible, allowing you to chart your own course of exploration. Veer westward to uncover the treasures of the Antalya region, where the sunken underwater city of Simena beckons, nestled within the captivating Kekova region. Alternatively, set your compass toward the west, unveiling the charms of Marmaris, Bodrum, and the picturesque town of Gocek.
Every route promises a unique blend of natural beauty, cultural immersion, and serene seafaring. Regardless of your chosen path, a meticulously planned and organized blue cruise itinerary ensures an unforgettable journey that originates from the captivating city of Fethiye.
As the wind unfurls the sails and the endless azure waters stretch out before you, Fethiye's allure becomes your gateway to a world of enchantment, exploration, and boundless discovery.