How to Charter a Gulet
Listed below are the basic steps in chartering a yacht through our company. For additional questions and information, you are more than welcome to contact us directly by phone, email, or fill out the form located at the bottom of the page. One of our representatives will respond within 1 – 12 hours with the necessary information and most competitive offers.
Step 1: Date of Embarkation
First of all a private yacht rental begins with establishing a date for your gulet or yacht cruise. Upon receiving your date, our yacht charter consultants will prepare a shortlist of yachts available on that date or a date closest to the one you have provided. In this shortlist there will information and possibly brochures supporting our offer to you. The boats work within the scope of a definite program in which the departure and return days are on Saturdays. It is necessary to pay attention to this when making your plans for private boat rental and cruise. Both in Turkey and Greece, the Aegean and Mediterranean coasts are ideally suitable for cruises by the start of April until the end of October.
Step 2: Yacht Charter Budget
The second step in organizing your private yacht charter is to define your budget. When you share with us your approximate budget we select yachts that are most suitable to your budget.
All gulets provide well groomed and professional crews on board. However the price of each gulet varies based on its size, namely length and number of cabins, as well as its furnishings, amenities and activities on board. Therefore realizing your budget will help in determining the yacht that is right for you. From Economic gulets, Luxury yachts, Deluxe gulets and VIP yachts. If you would like to spend your sailing holidays aboard a motorsailer charter or a sailboat rentals, our company offers yachts suitable for all budgets.
Step 3: The Right Yacht Rental
Once we have confirmed your embarkation date and budget, the next step is to find the right boat for hire. Based on the current information given by yourselves, our yacht charter consultants will prepare a list of yachts to propose for your evaluation. This will include all the details and pricing, terms and conditions, brochures and related material for you to assess what is available for your yacht charter holiday.
Step 4: Yacht Charter Itinerary
Upon confirming the yacht charter, we will need to establish your itinerary. Where would you like to travel and see? A gulet cruise or yacht charter holiday, although takes place at sea, there are other additional activites that can be a part of your holiday. Therefore, what you wish to do on your holiday will help establish a suitable itinerary so that you can fully enjoy your yachting holiday.
Nature walks and land excursions offer an unforgettable opportunity to visit the regions' historical and cultural sites. Other than these types of choices, yacht charter vacations include water sports; such as swimming, snorkelling, diving, fishing, and canoeing. For additional fees, jet skiis and water skiis can also be rented. However VIP yachts generally include these types of toys in the price. As a result, what you would like to do on your gulet holiday will assist us in choosing the most appropriate destinations for your itinerary.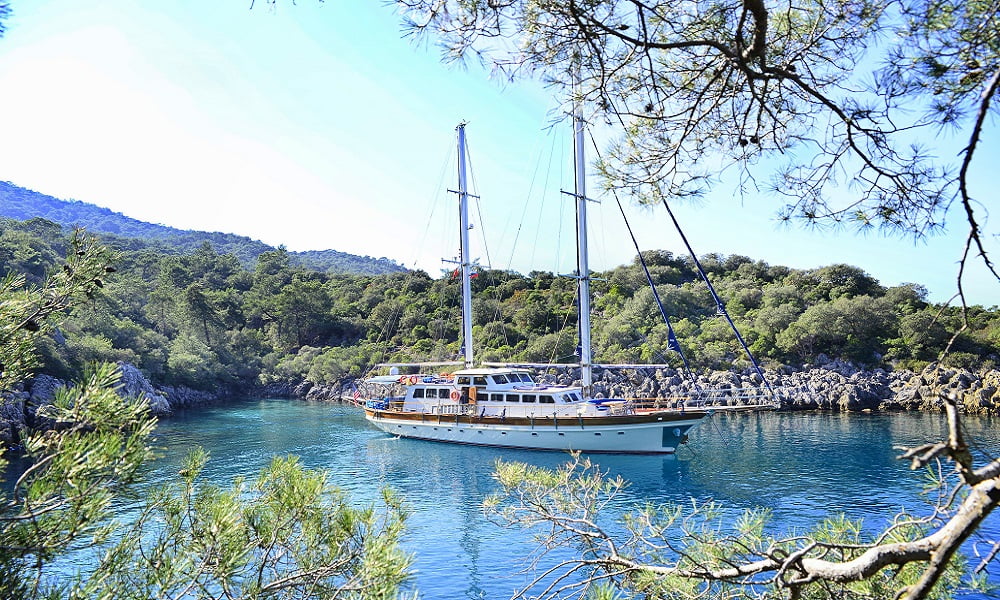 Step 5: Food and Beverage | Blue Cruise Menus
There are a few options in this department, but it needs to be organized so that all foods and beverages are on the yacht prior to your arrival. Guests can purchase their provisions and bring them on board for the chef to prepare during meal times.
Step 6: Airport Transfers
Our company provides airport transfers to and from your embarkation and disembarkation points. However we need to know if this service is required prior to your arrival so that we can organize your airport transfers accordingly. Airport Transfers are included in the price of yacht rentals.
Step 7: Reservation and Payment Terms
The last step of the yacht charter process is making your reservation and payments. A yacht charter contract is signed between you and our company. A copy of the contract will be sent to you by email or fax. All the details will be outlined in the contract pertaining to your yacht charter.
At the time of reservation, a 50% deposit is required in order to reserve the yacht in your name for the dates of your embarakation and disembarkation. The remaining sum will be paid upon arrival to your private yacht charter, as per the contract.
Upon your arrival, you and your group will be served welcome cocktails. An introduction to your cruise and the crew, as well as a tour of the yacht will take place. Once you are settled in your cabin, you can then begin to enjoy your yachting vacation in the Mediterranean and Aegean.
We look forward to serving you on board our charters this season!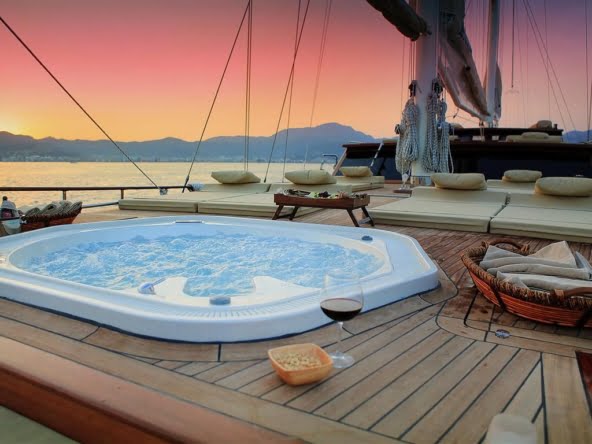 What is Gulet Charter In crewed Yacht Charters; the yachts will generally visit two or three bays...