Turkish Gulet Cruises
Turkey offers an impressive coastline lined with unique destinations full of color, life, culture, and history. From islands and secluded bays; hidden coves and bustling harbors; to ancient cities and ruins and more; there is never a dull moment when you decide on a holiday in Turkey. In addition to these stunning sights, the Turkish culture combines a wide variety in authentic dishes from the kitchens from the Mediterranean and Aegean regions. When you take all of the above beauties and combine it with a blue cruise on board a uniquely handcrafted Turkish yacht we call a gulet; be prepared to experience a journey full of sweet pleasures, ultimate serenity, total excitement and wholesome fun.
Turkish gulet cruises are offered as private yacht charter in Turkey. Each gulet cruise can be organized according to your personal holiday requirements or you can alternatively choose from a selection of pre-arranged gulet cruise holiday packages. The choices are there for you to decide on which route to take.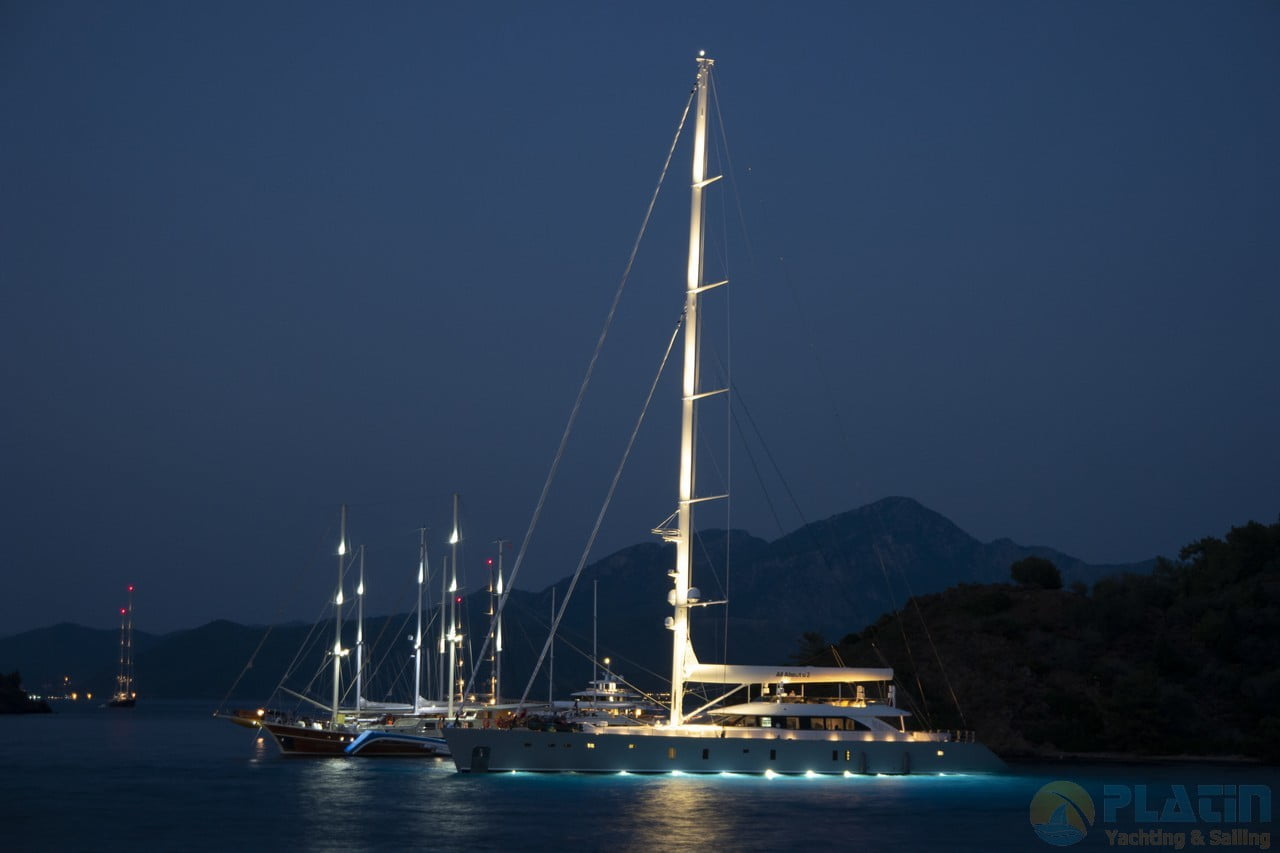 Should you decide to engage in a private gulet charter, the selection of gulets can cater to many different price levels. From the budget friendly boat holidays for families and groups of friends, to the high end elite groups for exclusive or corporate yacht charters. Not all gulets are the same. While some offer basic cabins with air conditioning and en suites, just comfortable enough for resting and sleeping; there are gulets that provide more in the concept of audio visual entertainment and first class spacious layout and design. Some gulets will appear quite classic from the exterior, however surprisingly modern on the inside. In the older built gulets, many a time, the decor represents the classic Turkish culture – which in essence does make the trip a bit more authentic overall.
Gulet cruise packages are ideal for travelers who are not too particular on the details – when all the basic details have been covered. All that you need for your Turkish gulet cruise has already been thought of and arranged. All you have to do is choose the package that suits your style and budget, and come on board to enjoy your holiday at sea. These too are private gulet holidays. The gulets chosen are based on the package type. There are three types of packages. A luxury gulet cruise package, a deluxe gulet package and a ultra deluxe gulet package. Based on the availability at the time of your booking, a few choices in gulets are offered for you to choose from. Yes, you can still chose your yacht from the offers given, and the price remains the same.
What ever your personal taste and needs lead you to decide on, rest assure that the destinations, the cruising and sailing experience will not differ between a privately selected gulet or one from a gulet cruise package.
Turkish Gulet Cruises
Turkey, with its captivating coastline and rich tapestry of culture and history, beckons travelers to embark on an unforgettable voyage through its turquoise waters. Whether you're seeking hidden coves, bustling harbors, ancient ruins, or a taste of authentic Mediterranean and Aegean cuisine, a Turkish gulet cruise promises an adventure that encompasses both relaxation and excitement.
A Mosaic of Delights:
From the pristine islands to the secluded bays, Turkey's coastline is a mosaic of breathtaking destinations that cater to every traveler's desire. The vibrant colors of life, the echoes of history, and the warm embrace of culture await your discovery. As you navigate through hidden coves and bustling harbors, you'll find yourself immersed in a world that is both enchanting and diverse.
Savoring Authenticity:
One of the highlights of a Turkish gulet cruise is the opportunity to indulge in the flavors of the Mediterranean and Aegean regions. The Turkish culture is renowned for its culinary diversity, and on board a gulet, you'll have the chance to savor a wide variety of authentic dishes. Imagine dining on freshly caught seafood, aromatic herbs, and local produce prepared with skill and care. Each meal becomes a celebration of Turkish cuisine, adding a layer of pleasure to your journey.
Gulets: A Unique Blend of Comfort and Tradition:
A gulet is not just a vessel; it's a blend of comfort, tradition, and craftsmanship. These uniquely handcrafted Turkish yachts provide a sanctuary on the sea, where every moment is an invitation to serenity, excitement, and fun. The gulet's design is a testament to Turkey's maritime heritage, offering a perfect balance between classic charm and modern amenities.
Private Yacht Charter: A Tailored Experience:
Turkish gulet cruises can be tailored to your personal preferences. Whether you opt for a private yacht charter or choose from pre-arranged gulet cruise holiday packages, the choices are designed to accommodate various styles and budgets. From budget-friendly options suitable for families and friends to high-end luxury experiences for exclusive or corporate charters, the gulet world offers a diverse range of options.
The Art of Gulet Design:
Gulets come in various styles and configurations, each with its own character and charm. Some gulets feature basic cabins for resting and sleeping, while others offer more luxurious amenities such as audio-visual entertainment systems and spacious layouts. The gulet's exterior might exude classic Turkish design, while the interior surprises with a modern twist. Whether you're drawn to timeless elegance or a fusion of classic and contemporary, there's a gulet that reflects your personal taste.
Gulet Cruise Packages: Simplified Bliss:
For travelers who prefer the convenience of pre-arranged details, gulet cruise packages offer a seamless experience. These packages are carefully curated to include all essentials, leaving you free to focus on the sheer enjoyment of your sea journey. Choose from luxury, deluxe, or ultra-deluxe packages, each offering a selection of gulets matched to the package type. The gulets are handpicked based on availability, ensuring a private and tailored experience for every guest.
A Unified Experience:
Whether you opt for a private gulet charter or a gulet cruise package, the essence of your experience remains consistent: the beauty of the destinations, the serenity of the seas, and the joy of discovery. Turkey's coastline is an open invitation to explore, to savor, and to create memories that will linger for a lifetime. As you sail through the vibrant tapestry of the Mediterranean and Aegean, you'll find that every moment on board a Turkish gulet is a celebration of life, culture, and the boundless beauty of the sea.