Premium Private Yacht Charter
Premium Private Yacht Charter Mediterranean – Upscale private yachts for charter are available throughout the Eastern Mediterranean in a wide selection of styles to suit travelers seeking the 4 and 5 star accommodation. And service standards expected from private yacht charters in this category. The turquoise shores of Turkey features some of the world's most sought after yachts; namely from the ports of Bodrum, Marmaris, Fethiye and Gocek.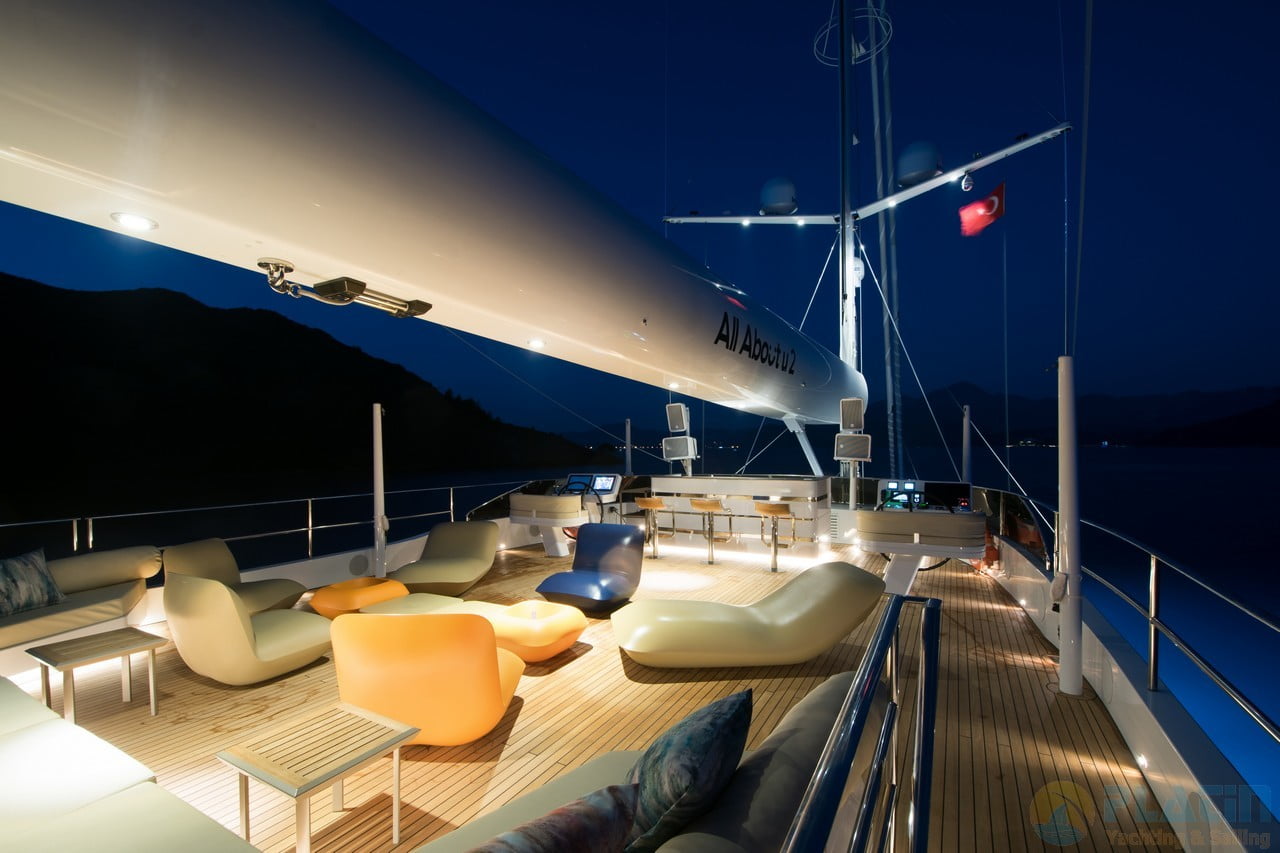 High end sailing yachts have particularly seen a great growth in popularity. The Mediterranean and Aegean sea regions of Turkey as well as the neighboring Greek Islands offer favorable conditions and amazing destinations for stunning sailing holidays throughout the year. From the classic and modern yachts built in the Istanbul shipyards to the high end Bodrum, Marmaris and Antalya quality sailing yachts and gulets, Turkey is a goldmine for VIP yacht charters.
Bodrum, the capital of high scale private yacht charter in Turkey; features renown names in yachts such as the 43 meter 'Clear Eyes'. With her alluring design and exquisite interior design, sailing yacht Clear Eyes is certainly one yacht to consider. She has all the charm and tradition of a schooner, but also offers her special VIP guests all the modern facilities, spacious and luxurious 5 star accommodation for up to 10; and a fantastic, highly skilled crew.
Another yacht, famed for her extreme and unique design and concept is the 36 meter 'Merlin'. There is nothing traditional about Merlin. She is dynamic, vibrant in style and upholds the highest in luxury yacht charter global standards. The yacht charter Merlin provides 5 tastefully designed cabins, featuring the aft master. The view from this cabin makes for a wonderful way to wake up fresh and relaxed. Among the many other features of Merlin yacht, the stairs which lead to the
cabins, as well as the dining area, are made from tempered glass with lighting.
One of the most famous gulets in the Eastern Mediterranean is the 'Mare Nostrum', based in Marmaris; boasting 43 meters in overall length. She is a dream yacht featuring the classic Turkish tradition in gulet design. The cabin accommodation offers guests 5 masters with king sized beds and one twin cabin. Ideal for long blue voyages, the Mare Nostrum gulet features an array of water sports toys on board, a treadmill, and forward jacuzzi tub.
Combining modern luxury and technology, with sleek lines, the Cobra Infinity yacht is undoubtedly one of the most attractive sailing yachts present in Southern Turkey. Built in 2010, the Cobra Infinity yacht displays a unique exterior design. She measures 46 meters in length overall and accommodates up to 12 VIP guests. Like many premium class yacht charters, the Cobra Infinity too has a very good selection of waters toys on board. The saloon is very spacious and ideal for special events and floating corporate meetings. She offers state-of-the-art audio-visual equipment and serves with a highly skilled and professional crew of 6.
Premium Private Yacht Charter in the Mediterranean
In the realm of luxury travel, nothing quite captures the essence of opulence and exclusivity like a premium private yacht charter in the Mediterranean. These exquisite vessels offer a haven for travelers seeking the epitome of 4 and 5-star accommodations and impeccable service standards. From the turquoise shores of Turkey to the captivating waters of the Aegean and beyond, the Eastern Mediterranean stands as a playground for those who seek nothing but the best.
1. Tailored Elegance:
The Eastern Mediterranean boasts a diverse fleet of upscale private yachts, each meticulously crafted to cater to the discerning tastes of travelers who demand the highest level of luxury. Whether you're captivated by the allure of modern sleekness or drawn to the timeless charm of classic designs, there's a yacht that's a perfect fit for your aspirations.
2. The Turkish Treasure Trove:
Turkey's coastal gems, including Bodrum, Marmaris, Fethiye, and Gocek, serve as the epicenter of luxury yacht charters. These ports are graced by some of the world's most sought-after yachts, creating a canvas upon which the dreams of premium travelers come to life.
3. Sailing to New Horizons:
High-end sailing yachts have experienced a surge in popularity, and it's no wonder why. The Mediterranean and Aegean regions, along with the enchanting Greek Islands, offer an idyllic backdrop for sailing holidays all year round. From Istanbul's shipyards to Bodrum's elite craftsmanship, Turkey is a treasure trove for VIP yacht charters.
4. Icons of Elegance:
The illustrious Clear Eyes, a 43-meter masterpiece, epitomizes the pinnacle of yacht luxury. Seamlessly blending tradition with modernity, Clear Eyes is a schooner that offers both classic charm and 5-star opulence. With spacious accommodation for up to 10 guests, an exquisite interior, and a highly skilled crew, this yacht promises an unforgettable voyage.
5. Unveiling the Extraordinary:
Merlin, a 36-meter marvel, defies conventions with its dynamic and vibrant design. This yacht is a testament to pushing boundaries and setting new standards in luxury. With five tastefully designed cabins, including an inviting master suite, Merlin ensures every moment onboard is a celebration of unique elegance.
6. The Classic Charmer:
Mare Nostrum, a gulet based in Marmaris, embodies the timeless Turkish gulet tradition. At 43 meters, she's a dream yacht offering a blend of classic design and modern amenities. With spacious master cabins, water sports toys, a treadmill, and even a forward jacuzzi tub, Mare Nostrum sets the stage for unparalleled luxury at sea.
7. The Vision of Modern Luxury:
Cobra Infinity, a 46-meter masterpiece built in 2010, marries technology with elegance. With sleek lines and state-of-the-art features, she beckons to the modern luxury traveler. Accommodating up to 12 VIP guests, Cobra Infinity offers a plethora of water toys, spacious saloons for events, and a crew of experts to cater to your every need.
As you embark on your premium private yacht charter journey, the Eastern Mediterranean opens its arms to offer you a voyage beyond imagination. These vessels are not just yachts; they are floating palaces, custom-designed to create an ambiance of opulence and indulgence. The shores of Turkey and the enchanting Greek Islands serve as the backdrop to your extraordinary adventure, where every horizon unveils a new chapter in the book of luxury travel.