Rhodes Greece Yacht Charter
If you are driven by history, authentic culture and ancient ruins then a trip to Rhodes may be just what you need. And what better way to discover Rhodes than combine it with a relaxing sailing trip across the Aegean! Time on board your own private yacht charter from Turkey, provides the perfect opportunity before site seeing in Rhodes. Embarking from the closest harbor in Turkey to Rhodes is Marmaris – a mere few hours gulet cruise.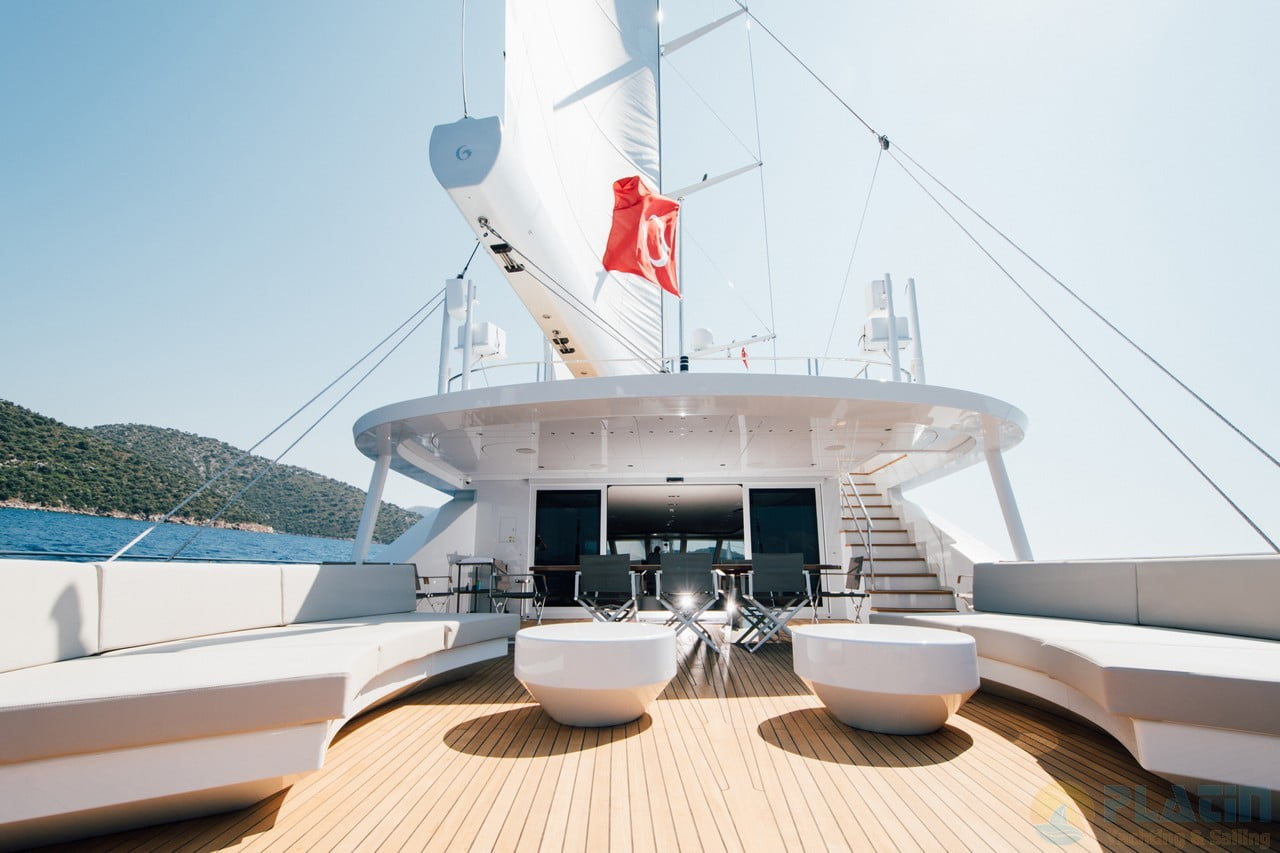 Yacht Charter Destination from Rhodes Greece
The summer months is the best time to sit on deck with a book, or take a swim and discover the sea life beneath the waves. However, beyond the water and good weather, the treasures of medieval Rhodes captivate visitors.
You will see so much amazing scenery and historical land marks, which can be explored on foot. Enriched in ancient history, and also busy with the hustle and bustle of modern day life, it is impossible to get bored. Rhodes yacht charter destination has been a home for many civilizations; starting with the knights of St. John in the Middle Ages, then Ottomans and Italians; thus the island has a unique historical harmony and beauty.
Rhodes City is still surrounded by 12 meter-thick city-walls, gives you the feeling of travelling back to Medieval times especially when you walk around its narrow, stone-paved roads, many of which are lined with shops selling leather goods, jewellery, locally crafted pottery, embroidered linens and lace. You will be spoilt for choice as to what gifts to bring home! After a day of exploring, why not relax in a traditional tavern and graze on abundant appetizers or meza, and watch the sun set – the perfect end to a perfect day! Rhodes is just one of many islands which offer equally fascinating history and culture, along with breathtaking scenery and buzzing nightlife.
A Sailing Odyssey
If history, authentic culture, and ancient ruins are the driving forces behind your wanderlust, then a journey to Rhodes might just be the key to unlocking your ultimate travel experience. And what could be a more fitting way to explore the captivating essence of Rhodes than by combining it with a leisurely sailing trip across the serene waters of the Aegean? Set sail on your private yacht charter from Turkey and allow the allure of the Aegean to wash over you, setting the stage for an unforgettable encounter with the past and present of Rhodes.
1. A Seamless Blend of Past and Present:
As you embark on your private yacht charter journey, the stage is set for an unparalleled voyage that transcends time. Before you even step foot on the enchanting island of Rhodes, your journey aboard your private yacht presents the perfect opportunity to unwind, savor the open sea, and anticipate the rich experiences that await you.
2. Setting Sail from Marmaris:
Begin your voyage from the picturesque harbor of Marmaris, the closest point in Turkey to Rhodes. A mere few hours of a gulet cruise across the Aegean stand between you and the treasures that Rhodes holds. The gentle sway of the waves becomes your lullaby, preparing you for the mesmerizing journey ahead..
3. Embracing the Sea's Gifts:
Summer's embrace invites you to sit on deck with a book, dive into the cerulean waters, and uncover the vibrant sea life beneath the waves. But beyond the sun-kissed waters and the welcoming weather, Rhodes beckons with its timeless treasures.
4. A Tapestry of History and Culture:
Stepping onto the shores of Rhodes transports you to a world where history seamlessly intertwines with modern life. The island has been a canvas for numerous civilizations, each leaving their indelible mark. From the medieval knights of St. John to the Ottomans and Italians, Rhodes boasts a unique historical tapestry that exudes harmony and beauty.
5. The Wonders of Rhodes City:
Rhodes City, cocooned within 12-meter-thick city walls, invites you to traverse its stone-paved roads and journey back to the medieval era. As you wander through its narrow alleyways, you'll encounter shops adorned with leather goods, jewelry, pottery, embroidered linens, and delicate lace. The choices are boundless, offering you the opportunity to bring home a piece of Rhodes's soul.
6. A Day of Discovery:
A day in Rhodes seamlessly blends exploration with relaxation. After delving into the island's historical wonders, take a moment to unwind in a traditional tavern. Savor abundant appetizers or meza and watch as the sun dips below the horizon, casting a warm glow over your perfect day.
7. Beyond Rhodes:
Rhodes is but one star in a constellation of equally captivating islands that offer a harmonious blend of history, culture, stunning landscapes, and vibrant nightlife. As your journey through the Aegean unfolds, you'll find yourself immersed in a world where every island is a chapter waiting to be written.
From the serenity of your private yacht charter to the cobblestone streets of Rhodes City, your Mediterranean odyssey is a celebration of timelessness. Your journey is not just a vacation; it's a rendezvous with history, a testament to the spirit of exploration, and a dance with the Aegean's eternal allure. Embark on a voyage that transcends eras, discover the treasures of Rhodes, and let the beauty of the past guide your path into the future