Private Charter Yachts
As far as private yacht vacations are concerned, which type of yacht you choose to be a part of your charter yacht holiday from the Mediterranean, you are certain to enjoy all that it has to offer. The Eastern Mediterranean, Southern Aegean and Adriatic offer an abundance of fresh sea air, beautiful beaches, traditional shops in charming little seaside villages, bustling harbors, tasty cultural cuisine and much more.
If you are the adventurous type where action is where you want to be, you may wish to enjoy your private yacht travels aboard a fine sailing yacht hire and feel the luxury of a good sailing experience without much in engine power – with the right winds.
Why not discover Southern Turkey or the neighboring Dodecanese, possibly the Dalmatian coast, with a touch of culture on board a Turkish . You can either go gulet sailing or just enjoy a relaxing gulet cruising holiday with your family and friends.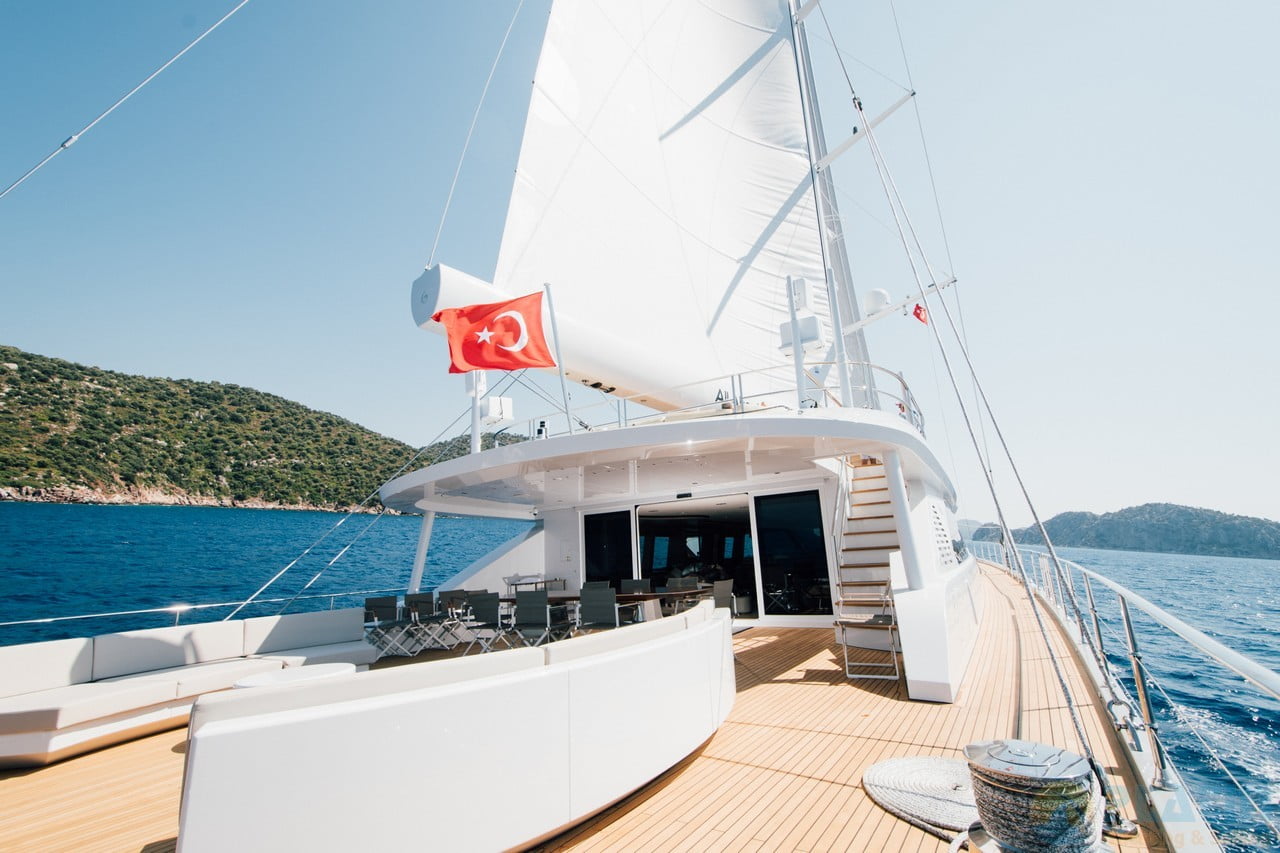 Private Charter Yachts
Alternatively, sailing holidays can also be enjoyed with a mini cruiser rentals in Turkey for large groups. Choose from a variety of private boat charters and indulge in a fun-filled and adventure vacation or peaceful and calming holiday in the Mediternean sea along the historical coast of Turkey..
This budget range is applicable for private yacht charters. Our cabin charters in Turkey are currently booked for the season.
Food and drinks are extra on top of the gulet/yacht rental price. Sometimes the menu can be quoted inclusive to the charter price.
Yacht charters less than 5 days may not be possible during high season months from mid June – mid September due to booking schedules.
Daily charters may be possible for motor yachts/boats only, based on availability.
Exploring the Mediterranean's Finest
When it comes to curating your dream private yacht vacation, the Mediterranean offers an exquisite array of options that cater to your every desire. From the Eastern Mediterranean's enchanting allure to the Southern Aegean's coastal treasures and the Adriatic's hidden gems, every corner of this nautical paradise promises an unforgettable journey. Embark on a yacht charter holiday that speaks to your heart's desires, and immerse yourself in a world of fresh sea breezes, pristine beaches, charming villages, bustling harbors, and delectable cultural cuisine.
1. Choose Your Adventure:
As you set sail into the vast expanse of the Mediterranean, you're met with an exciting choice of yachts to accompany you on your voyage. For those seeking an adrenaline rush and a touch of adventure, a sailing yacht charter might be your ideal choice. Feel the wind in your hair and the thrill of harnessing nature's power to propel you forward. Experience the art of sailing as you navigate the open waters with the right winds guiding your journey.
2. Discover Southern Gems:
Why not embark on a journey of discovery through the turquoise waters of Southern Turkey or venture into the neighboring Dodecanese islands? Picture yourself on a gulet sailing adventure, or simply unwind with a tranquil gulet cruising holiday. Whether you're seeking an active escapade or a leisurely retreat, these idyllic waters promise an experience tailored to your wishes.
3. Unveil a World of Possibilities:
For larger groups and those who relish the company of fellow travelers, mini cruiser rentals in Turkey present an exciting option. Choose from a variety of private boat charters that cater to your vision of the perfect vacation. Dive into a realm of fun-filled adventures or bask in the serenity of calm Mediterranean waters along the storied coast of Turkey.
4. Setting Sail: Budget and Beyond:
Your yacht charter budget encompasses the private yacht charter itself. However, it's essential to note that food and drinks are typically additional expenses. Depending on your preference, some yacht charters offer inclusive menus that add a touch of convenience to your experience.
5. The Seasonal Splendor:
As you plan your private yacht vacation, keep in mind that charters lasting less than five days might not be available during the peak season months, spanning from mid-June to mid-September. This consideration is due to the high demand and carefully structured booking schedules that ensure you make the most of your Mediterranean adventure.
6. A Glimpse into the Daily Delights:
For those intrigued by the notion of a shorter maritime escape, daily charters are a possibility, particularly for motor yachts or boats. Availability can fluctuate, but if you're drawn to the allure of a one-day excursion, the Mediterranean's crystal-clear waters await your exploration.
As you embark on this journey of a lifetime, let the Mediterranean's boundless beauty and myriad possibilities unfold before you. Choose your vessel, set your course, and let the waves carry you to a world where azure skies meet turquoise waters, and every horizon is a canvas painted with unforgettable memories. Your private yacht vacation in the Mediterranean is a chapter waiting to be written—a story of adventure, relaxation, discovery, and unparalleled luxury.