Blue Cruise Gocek is a charming town located along the Eastern Mediterranean of Turkey. The town of Gocek prides itself with its popularity in the yachting industry, providing 6 European standard marinas. Although quite small in land mass, the town is favored during the blue cruise season as one of the top rated destinations to embark from. To enjoy a blue cruise Gocek holiday, a flight to Dalaman
International and then a brief, 20 minute drive to the harbor will lead you to the start of a fantastic journey. This blue cruise travel will be full of many remarkable destinations which may include historical architecture; ancient cities of Caunos or Simena; as well as other fascinating ruins. You might like to discover great diving spots, enjoy an array of water sport activities, and take delightful treks for shopping and sightseeing on land. However it will also render the luxuries of a yacht cruise like no other, a traditional journey on board a classic Turkish gullet.
Gulet Charter
As Turkish gulet cruises become more and more popular to alternatively staying in hotels, they also lead the way to complete relaxation and blissful holiday time away from home. Blue cruises in Turkey are meant for travelers of all ages. Families with or without children and groups of friends can enjoy the private gulet charter services, all within a set budget – since there are many kinds of gulets to choose from. These lovely handcrafted wooden yachts come in a variety of quality levels. Starting from economical gulet charters, they work the way up to luxury gulets, then a bit higher to the deluxe class gulets (most popular) and then reach levels of first class standards with ultra deluxe and VIP gulets – sailing yachts. No matter what your budget, the itineraries, the routes and the destinations that are a part of the journey all remain the same. Your floating accommodation standards and quality are all up to you.
From Gocek, itineraries can be planned to take you to some of the most breathtaking islands, hidden coves and secluded bays. They can also steer to the exciting harbor cities of Fethiye and Marmaris where you can experience a great night out dining and dancing. These fabulous destinations offer much in choice for restaurants and bars which line the waterfront areas of the harbors.
As an alternative route or an addition to your itinerary, an explore to the Dodecanese islands in Greece may also be an exciting choice to make. The islands of Rhodes, Symi and Kos each present a unique experience to your holidays at sea.
Thinking of a very pleasurable way to spend your holidays this season, then a blue cruise Gocek holiday might just be a delightful route to take!
Discovering Tranquility and Luxury: Embark on a Mesmerizing Blue Cruise Holiday in Gocek
Nestled along the scenic Eastern Mediterranean coast of Turkey lies the enchanting gem known as Gocek. This quaint town boasts a unique charm that is perfectly complemented by its reputation in the yachting industry. With its six European-standard marinas, Gocek has firmly established itself as a haven for yachting enthusiasts. Despite its modest size, this idyllic destination shines brightly during the blue cruise season, earning its spot as one of the premier embarkation points for unforgettable nautical journeys. So, if you're seeking a remarkable escape that combines opulent yachting experiences with breathtaking historical and natural wonders, a blue cruise holiday in Gocek might just be your dream getaway.
The journey to this coastal paradise commences with a flight to Dalaman International Airport, followed by a leisurely 20-minute drive to the harbor. As you step aboard your awaiting vessel, you're poised to set sail on a journey of unparalleled beauty and serenity. The blue cruise adventure promises to whisk you away to a tapestry of remarkable destinations, each offering its own unique allure. Immerse yourself in the intriguing remnants of history as you explore the ancient cities of Caunos and Simena, where historical architecture tells stories of eras long past.
Yet, the allure of Gocek's blue cruise extends beyond the pages of history. Thrill-seekers and water enthusiasts will find themselves in paradise, discovering hidden diving spots and indulging in an array of exhilarating water sports. For those who prefer to keep their feet on solid ground, delightful treks for shopping and sightseeing await, offering a taste of the local culture and charm.
A hallmark of the blue cruise experience in Gocek is the opportunity to revel in the luxurious comforts of a traditional Turkish gulet. These handcrafted wooden yachts come in a variety of options to suit all budgets. From economical choices to lavish luxury gulets, the range ensures that everyone can partake in this extraordinary voyage. The itineraries and routes remain constant, allowing you to tailor the experience to your preferences while basking in the splendor of your chosen floating accommodation.
As the gulet sets sail from Gocek, the possibilities are endless. Itineraries can be meticulously crafted to unveil breathtaking islands, hidden coves, and serene bays. The journey may also lead you to vibrant harbor cities like Fethiye and Marmaris, where the nights come alive with dining and dancing by the shimmering waterfront. Savor an array of culinary delights in charming restaurants and immerse yourself in the local nightlife, making memories that will last a lifetime.
For those seeking an extra dash of adventure, consider venturing to the captivating Dodecanese islands in Greece. The islands of Rhodes, Symi, and Kos beckon, each offering a unique tapestry of experiences that seamlessly blend with your sea-bound escapades.
As you contemplate the perfect escape for the upcoming season, let your thoughts drift to the alluring possibility of a blue cruise holiday in Gocek. A realm of tranquility, luxury, and discovery awaits, promising a sojourn that transcends the ordinary and leaves an indelible mark on your heart and soul.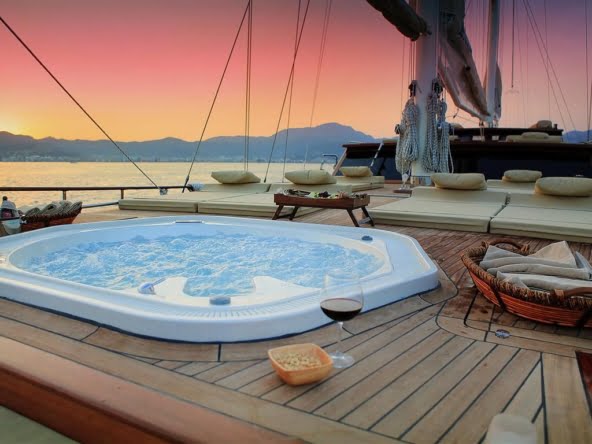 What is Gulet Charter In crewed Yacht Charters; the yachts will generally visit two or three bays...