How To Book A Private Blue Cruise Holiday
One of the most unique ways to enjoy the Mediterranean, Aegean and the Adriatic seas is on board a wooden boat called a gulet. They come in all shapes, sizes and prices. The crews are generally local, so the local atmosphere and cuisine make the voyage all the more interesting.
The process from start to finish in booking a gulet is quite straightforward. It involves a bit of search and find; while taking into consideration the requirements and interests of everyone else in your group. Putting together a group of family and friends for a private yacht charter is not easy. Everyone's holiday schedule requires synchronizing with the rest of the group's holiday plans. The following is a brief outline in the steps that may be involved in how to book a private blue cruise holiday. Although there are many variations in gulet cruise holidays, the information below may help guide you in making the most appropriate choices for an enjoyable and memorable blue cruise vacation.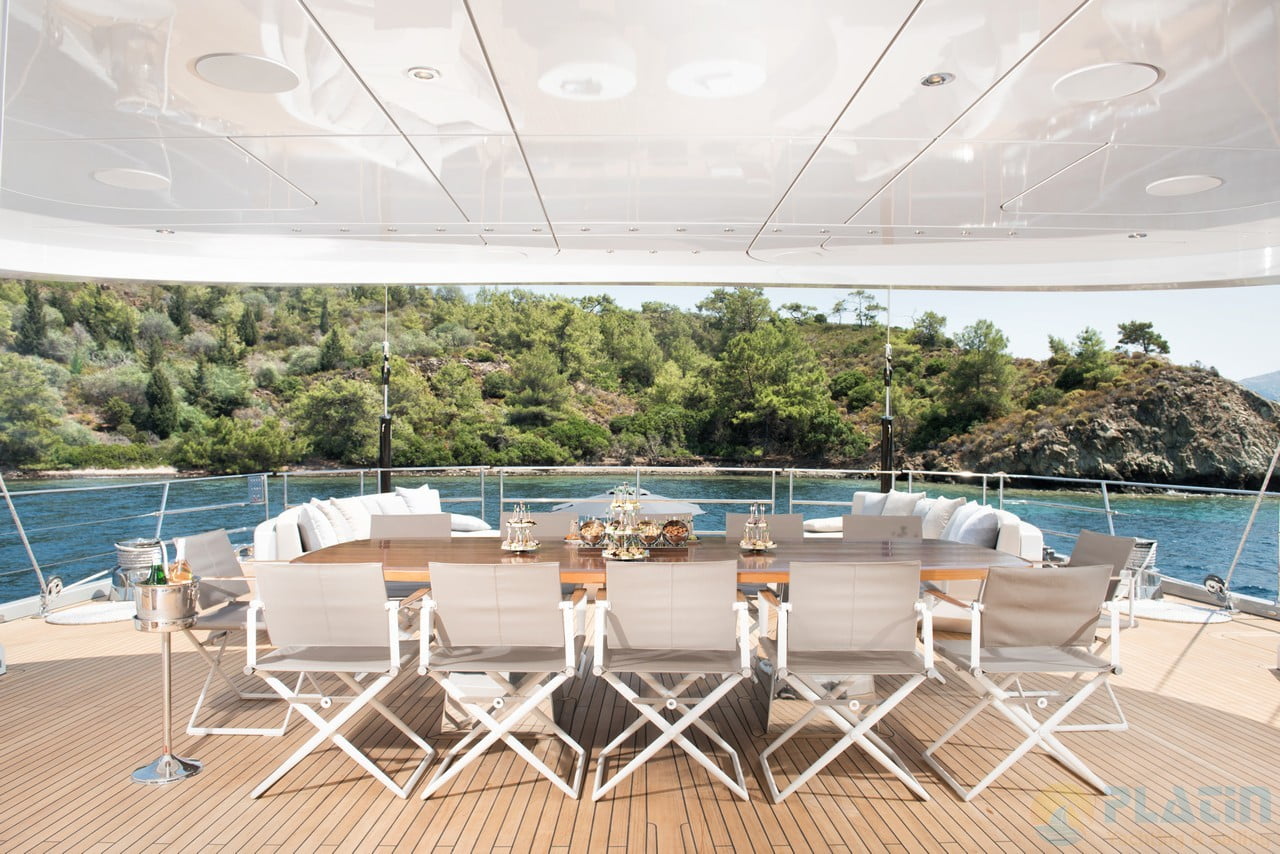 Search and Filter
Before you begin your search for the boat that is right for you and your group, first consider the total number of people that will be coming. Then find out how much each person can allocate for their one week trip. If you are not sure about budget, then just start with the number of guests. Look at all the boats that have the capacity for that many people. Each boat will offer different options and prices. However sometimes the right capacity may not be the right price for you. For instance if you are a group of 10, gulets which can accommodation up to 12, may be cheaper than a gulet that has a capacity of 10. It's all dependent on your expectations in the level of standards you wish to have from your charter gulet boat.
Gulet Charter Terms
Once you have shortlisted, offers will be sent by your agent. Depending on your quotation request, the following general gulet terms will be given to you. This information is also located on each of the gulet specification pages on our pages
Included in Yacht Charter Price :
• Yacht insurance • Fuel up to 4 hours per day • Cooking gas • Use of air conditioners • Turkish transit log, mooring expenses, harbour taxes in Turkish Waters • Accommodation on Board (days agreed on) • Daily cabin and bathroom cleaning • Bed linen and towels • Laundry • Welcome cocktail & Afternoon tea break • Use of equipment on board • 24 hours crew service • Airport transfer is included
Not Included in Yacht Charter Price:
• Harbor taxes and mooring fees in Greek waters • The meals, soft drinks, drinking water, alcoholic beverages • Land excursions • Insurance does not cover your own personal travel and cancellation insurance.
• Greek waters entrance fees and Greek islands harbour fees will be paid to the captain on board if cruising around Greek islands.
• Crew Gratuity is extra and usually 5-10 % of the Charter Fee – and left up to the discretion of the clients.
Booking:
• Option is placed on explicit e-mail request, and is active until agreed date. Booking needs to be confirmed while option is active. Option expires after agreed date without special warning. Please take care of your option expiration. Booking is confirmed when agreement is signed by both parties and deposit paid.
Water Sports: Please note that water toys such as jet skis and water skis may not be found in all yacht and gulet rentals. Please inquire about these particular features when writing to us. Sometimes the yachts will include them without the fuel (fuel is extra), and other times not. Alternatively these items can be rented from water sport providers when anchored in certain bays during your travels.
Yacht Rental Periods: Yacht and gulet rentals run from Saturdays to Saturdays; with a one week minimum rental. Should you require a longer or shorter rental period, or start on a different day, please let us know so that we may advise availability and/or suitability accordingly. Thank you.
Then when a boat is agreed on, it's time to start the booking process. Once you have decided to book a gulet, a Client Preferences List and a Yacht Charter Agreement as agreed upon, will be sent to you by email. The charter agreement is usually signed within 3 days from the date on the contract and the Client Preferences List is required by the agent about two weeks before embarking.
Itineraries are usually the last part of booking your yacht charter vacation and can be discussed with your agent, followed by your captain when you have embarked on your gulet.
A Comprehensive Guide to Booking Your Dream Gulet Cruise
When it comes to experiencing the Mediterranean, Aegean, and Adriatic seas in unparalleled luxury, a wooden vessel known as a gulet promises an adventure like no other. With a plethora of sizes, shapes, and price ranges, gulets offer a unique blend of tradition and opulence. Local crews add an authentic touch, infusing the journey with the region's atmosphere and delectable cuisine. From envisioning your voyage to setting sail, let's delve into the intricate process of booking a private blue cruise holiday aboard a gulet.
Setting Sail: The Art of Gulet Booking
Embarking on a private yacht charter, especially when orchestrating a gathering of family and friends, requires meticulous planning and coordination. The journey from dream to reality begins with search and discovery. As you embark on this quest, consider the number of travelers and their budget allocations. While matching capacity is vital, sometimes boats with slightly larger capacity can offer more cost-effective options. Your expectations and standards will play a significant role in selecting the ideal charter gulet boat.
Navigating Gulet Charter Terms
As your shortlist takes shape, the next step involves delving into the intricacies of gulet charter terms. Upon sending your quotation request, your agent will provide details on what's included and excluded from the yacht charter price. The comprehensive list comprises essential components such as yacht insurance, fuel, air conditioning usage, crew services, and even airport transfers. While these terms vary, they provide a comprehensive understanding of what your charter entails.
The Art of Booking: A Step-by-Step Guide
Option Placement and Confirmation: Once you've found the perfect gulet, an option is placed based on your explicit email request. The option is active for a specific duration, and booking is confirmed when both parties sign the agreement and the deposit is paid.
Yacht Charter Agreement: This document outlines the terms and conditions of your charter. It covers essentials like yacht insurance, mooring fees, and crew gratuity. Your signature is the seal that solidifies your commitment to the journey.
Client Preferences List: To ensure your journey aligns perfectly with your desires, a Client Preferences List is provided. This list covers everything from dietary preferences to cabin arrangements, guaranteeing a tailored experience.
Water Sports and Yacht Rental Periods: If you're seeking water sports thrills, inquire about availability and details such as fuel costs. Gulets generally operate on a Saturday-to-Saturday basis, with a minimum one-week rental. Customizations to rental periods can be arranged upon request.
Embarking on the Journey: Itineraries and Captain's Guidance
As your journey crystallizes, itineraries emerge as the final brushstrokes on your masterpiece. These can be discussed with your agent before the captain takes the reins once you're aboard your chosen gulet. As you set sail, the rich tapestry of coastal wonders and secluded coves awaits, painting an indelible picture of your voyage.
From the inception of your yacht dreams to the moment you step aboard your chosen gulet, the process of booking a private blue cruise holiday is a meticulous orchestration of dreams and details. As your gulet cruise unfurls, the whisper of the waves will be accompanied by the melody of your laughter, creating cherished memories that will forever grace the shores of your heart.